Ad blocker interference detected!
Wikia is a free-to-use site that makes money from advertising. We have a modified experience for viewers using ad blockers

Wikia is not accessible if you've made further modifications. Remove the custom ad blocker rule(s) and the page will load as expected.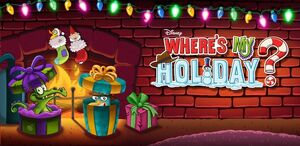 Where's My Holiday?  was an exclusive game for Christmas featuring Swampy and Perry the Platypus. There were 6 levels in each story, making a total of 12 levels in the game.
Swampy's Story:
1-1: Winter is Coming
1-2: Choo Choo
1-3: Deck The Halls
1-4: Tree of Lights
1-5: Under the Mistletoe
1-6: Red-Nosed
Perry's Story:
1-1: Under the Tree
1-2: Snowman
1-4: Eight Crazy Lights
1-5: With Marshmallows
1-6: Drop the Ball