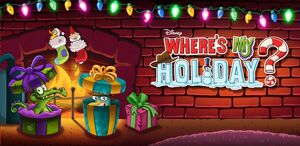 Where's My Holiday?  was an exclusive game for Christmas featuring Swampy and Perry the Platypus. There were 6 levels in each story, making a total of 12 levels in the game.
Swampy's Story:
1-1: Winter is Coming
1-2: Choo Choo
1-3: Deck The Halls
1-4: Tree of Lights
1-5: Under the Mistletoe
1-6: Red-Nosed
Perry's Story:
1-1: Under the Tree
1-2: Snowman
1-4: Eight Crazy Lights
1-5: With Marshmallows
1-6: Drop the Ball
Ad blocker interference detected!
Wikia is a free-to-use site that makes money from advertising. We have a modified experience for viewers using ad blockers

Wikia is not accessible if you've made further modifications. Remove the custom ad blocker rule(s) and the page will load as expected.