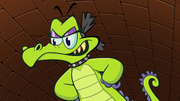 I am Marluxia's pet deerling. Now I won't be complaining or negatively commenting on posts or articles etc. I just wanna have "fawn". Uh oh! Marluxia's taking me to the vet! I need a flu shot. They hurt my cute little body. Deerling are very sensitive so don't post negative things toward me. They don't know their own problems so they think its ok to hurt others to save their own hide. Look for my fawn-tastic fan made Wheres my Bambi. It will make you flip when you see it. I will see you sometime and may comment occasionally.
                              Gotta go! Marly's yelling at me to get in the car.               
                                                    See you fawns later!     
                                                        Marluxia's Deerling

Ad blocker interference detected!
Wikia is a free-to-use site that makes money from advertising. We have a modified experience for viewers using ad blockers

Wikia is not accessible if you've made further modifications. Remove the custom ad blocker rule(s) and the page will load as expected.