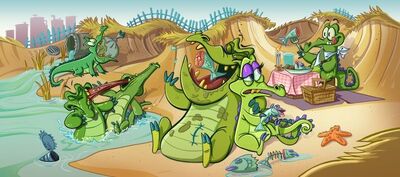 Under Pressure is the third chapter in Swampy's story.
Overview
For this level pack, you must learn the ways of bombs and learn to notice when they can be the key to success or be the cause of many restarts. You must also harness the power of a new liquid which can be good or very very bad.
Intro
In the introduction, you can hear burping and see Pushy and Shovey tugging a fish (you can also see Karl with a bag in his mouth). Cranky and Allie are eating, but so is Swampy, not noticing Allie.
Introductions
- Bombs
- Wheel or water hose
- Water touch gates
- Purple gate
Levels
3-1: Mine Field
3-2: Around the Bombs
3-3: Ooze Fall
3-5: Bomb Chain
3-6: Interruption
3-7: Apply Pressure
3-8: Let's Play Catch
3-9: On Again, Off Again
3-10: River of Ooze
3-11: Rat in a Maze
3-12: Bomb It Up!
3-13: Redirection
3-14: Blow the Roof Off!
3-15: Going Down?
3-16: Water Temple
3-17: Back and Forth
3-18: Untimely Growth
3-19: Moving Target
3-20: Aqua Portals
Cutscene:
All the bad alligators are eating a meal. They are all eating messily, but Swampy cooks his meal and eats it with utensils. Allie, who still likes Cranky, doesn't like how Swampy is eating.
Ad blocker interference detected!
Wikia is a free-to-use site that makes money from advertising. We have a modified experience for viewers using ad blockers

Wikia is not accessible if you've made further modifications. Remove the custom ad blocker rule(s) and the page will load as expected.