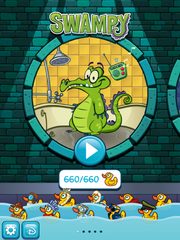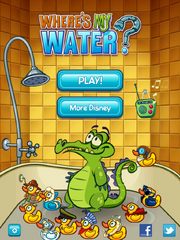 The Tri-Ducked Ducks are special Swampy Ducks on the title screen of Where's My Water.
Overview
If one tri-ducks a whole chapter (gets three ducks on every level in a chapter), a tri-ducked duck will appear on the title screen in the water below Swampy's window (before version 1.10, in the tub with Swampy). These ducks are essentially Swampy Ducks, but dressed in varying outfits (except for the Meet Swampy duck).  When one taps on a duck, it will make a "Quack" noise. Each quack sound is slightly different.
Ducks
The ducks are (in order of chapters):
Trivia
Two of Where's My Water's secret levels are found on this screen, called:
Both are accessed by tapping the ducks in certain orders.
If one fails a secret code or is tapped randomly, the duck will make a fail noise.
Ad blocker interference detected!
Wikia is a free-to-use site that makes money from advertising. We have a modified experience for viewers using ad blockers

Wikia is not accessible if you've made further modifications. Remove the custom ad blocker rule(s) and the page will load as expected.