Out to Dry

Levels:

20

Previous Chapter:

Next Chapter:

Growing Pains

Game:
Out to Dry is the tenth and last chapter in
Swampy's Story
.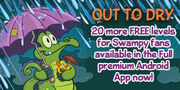 This episode requires ?
ducks
. This episode was released on June 28, 2012.
New things
Mud is introduced.
Hoses that have 3 pipes are introduced
Levels
10-1: Let it Dry!
10-2: Muddy Floor
10-3: Cut and Dry
10-4: Plug the Hole
10-5: Bog it Down!
10-6: Muddy Journey
10-7: Spots on the Wall
10-8: Can You Dig It?
10-9: Double Decker Bridge
10-10: Walls of Mud
10-11: Mud Bucket
10-12: Make a Ramp
10-13: Subdivision
10-14: Misty Mud
10-15: Redo
10-16: Fill Columns
10-17: Landfill
10-18: Bucket Builder
10-19: Spa Treatment
10-20: Dry Landing
Trivia
Every level in this level pack contains mud.
Several things are not in this episode, that means poison, water touch gates, green gate, purple gate, 2 way pipe, coal, converters (though the pipe picture has a mud symbol,) bombs, poison hose, ooze hose and steam hose. With ballons only appearing twice, blue oate once, vaccum once, ooze once, ice twice and steam twice.
The levels in Swampy's Picks are replaced with 10-1, 10-3, 10-5, 10-12 and 10-16.
The cutscene song can be heard in the Mystery Duck.
This is a first update that have a real animal asides from alligators.
This episode is the grand finale in Swampy's Story. There will be definately no more episodes. However as 2013
There were 4 more episodes coming soon.
Ad blocker interference detected!
Wikia is a free-to-use site that makes money from advertising. We have a modified experience for viewers using ad blockers

Wikia is not accessible if you've made further modifications. Remove the custom ad blocker rule(s) and the page will load as expected.