This fanon needs cleanup or expansion
That means it does not meet Where's My Water? Wiki's fanon quality standards.

If you own this fanon or have permission to edit it, you may correct any grammatical or structural errors found in this page, or expand it with more information. Once an admin reviews it, the tag will be removed. If the fanon still fails to meet the requirements after 1 month, it will be deleted. However, you can request the admin to restore your fanon at any time if you'd like.
Its a fan idea for all Bambi lovers out there
Bambi's story: Bambi needs water to fill up the pond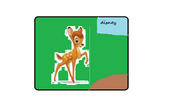 . Bambi is really hot and thirsty but the pond is empty! Can you help Bambi use the city water and the hoses to get him water? Be sure to collect 3 hummingbirds as well

Cutscene: Bambi has his friends gathered by the pond when Bambi dives into the pond off of a bouncy branch Kerthunk! He hits his head on some hard dirt! The pond is dry! How can he and his friends cool down without the water? Bambi needs your help!
Chapter one: A pond problem
New fluid(s): Water, nectar, and pollen.
Level 1: Back to the woods
Level 2: Don't touch that green stuff
Level 3: Pollen goes up
Level 4: Who put that there?
Level 5: Banner days
Level 6: Bir-duh!
Level 7: Tree house
Level 8: Won't be a seedling forever!
Level 9: Barrier builder
Level 10: Barrier breaker
Chapter 2: Chemistry Troubles Cutscene: A lab coat-clad Bambi is tinkering with chemicals with the hummingbirds when he discovers a pile of red water. He pours some water into it and it explodes. He is quickly reminded of the dry pond and goes to fix this problem.
New fluid(s): Red water
Level 1: Green is everywhere
Level 2 Talkin 'bout evaporation
Level 3: Dodgeball
Level 4: Math problem
Level 5: Release the flood
Level 6: April shower
Level 7: Vine path
Level 8: This close to liftoff
Level 9: Fire hose maze
Level 10: You need a calm mind
         Red water: Explodes on contact with any fluid. Bambi runs away if it gets into the pond
         Pollen: Can go through water does not explode whilst touching red water
         Wall: Blocks anything, red water can destroy it
         Wind: Blows any fluid,Walls and red water can break the wind
         Polluted water: If it gets in the pond Bambi will be sad. Water touching it creates more polluted water. Makes red water dissipate
         Portal: Teleports water to the exit portal of the same color
         Flowers: If red water touches them it will turn into water or polluted water depending on its symbol.

Ad blocker interference detected!
Wikia is a free-to-use site that makes money from advertising. We have a modified experience for viewers using ad blockers

Wikia is not accessible if you've made further modifications. Remove the custom ad blocker rule(s) and the page will load as expected.