This fanon needs cleanup or expansion
That means it does not meet Where's My Water? Wiki's fanon quality standards.

If you own this fanon or have permission to edit it, you may correct any grammatical or structural errors found in this page, or expand it with more information. Once an admin reviews it, the tag will be removed. If the fanon still fails to meet the requirements after 1 month, it will be deleted. However, you can request the admin to restore your fanon at any time if you'd like.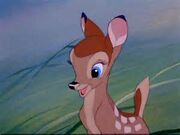 This is another story for the fanon series of Where's my Bambi Faline needs nectar to pump into the bee hive, be sure to collect 3 acorns. This is another story for the Bambi collection. Cutscene: This flighty fawn has seen a struggling bee colony with a starving bunch of bees. She has a nectar deposit so she pushes the hive to the deposit but the nectar is gone! Faline needs your help! Chapter one: The honey hullabaloo
level 1: Nectar is useful
Level 2: Water equals more
Level 3: Level of the precise
Level 4: Tear down the walls
Level 5: E-x-p-l-o-s-i-v-e combo
Level 6: Try to catch the wind
Level 7: Bus stop
Level 8: Avoid the red water!
Level 9: Love for explosions
Level 10: Faline's Finale
Chapter 2: Colony Of Challenge Level 1: Riled up
Level 2: Dragon in the room
Level 3: Don't get lost
Level 4: Frozen in time
Level 5: It won't open
Level 6: Straightforward
Level 7: Trove of oddity
Level 8: Dance till dawn
Level 9: Pour the bowl
Level 10: No sleeping on the job
Red water: explodes on contact with any fluid
Walls: Blocks anything, red water can destroy it.
Wind: Blows water, nectar, polluted water, and pollen. Red water can break the wind as well as walls
Ad blocker interference detected!
Wikia is a free-to-use site that makes money from advertising. We have a modified experience for viewers using ad blockers

Wikia is not accessible if you've made further modifications. Remove the custom ad blocker rule(s) and the page will load as expected.