Bulking Up

Levels:

20

Previous Chapter:

Next Chapter:

Games:

Story:
Bulking Up is the third chapter in
Cranky's Story
. It was released on April 5, 2012 along with
Rising Tide
in
Swampy's Story
.
It's the 12th Annual Exercising Party and Cranky is working out with the all the alligators but he is still hungry. Help Cranky in his 3rd part to his story. Work your way through 20 more levels that will put your brain to work!
It is the second to last chapter in
Cranky's Story
.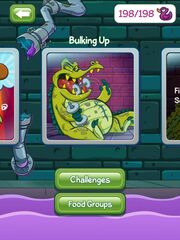 Levels
C3-1: Fill It First
C3-2: Water Wheel
C3-3: Waterfall
C3-4: Cross The Line
C3-5: Cranky Blast
C3-6: Raincatcher
C3-7: Explosive Combination
C3-8: Bottom Feeder
C3-9: Gusher
C3-10: Blocked Shots
C3-11: Boxed In
C3-12: Blow Your Top
C3-13: Drip, Drop, BAM!
C3-14: Unleash the Ooze
C3-15: Leaky Faucet
C3-16: Gravity Push
C3-17: Cross the Streams
C3-18: Water Delivery Service
C3-19: Pump System
C3-20: Straight And Narrow
Ad blocker interference detected!
Wikia is a free-to-use site that makes money from advertising. We have a modified experience for viewers using ad blockers

Wikia is not accessible if you've made further modifications. Remove the custom ad blocker rule(s) and the page will load as expected.