Build a Bridge and Move On is the 12th Allie level of the week.
Walkthrough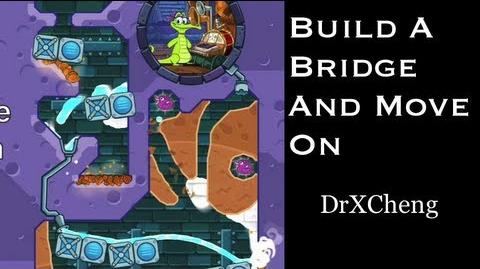 First, before releasing the water, move the two movable platforms at top-left so they cover the hot rocks. Then, release the water; when the water is about to hit the second platform, quickly move it to the left to let some water into there. Then, quickly move it back to get the rest to the pipe. The water that did not get into the pipe will turn into steam from the hot rocks, and should fill up the first duck. Then, move the three platforms at the bottom to make a "bridge" for the water to get across to the hot rocks on the other side; the two left ones should be a little bit from the top, and the right one should be a little bit from the bottom. If done correctly, the water should reach the hot rocks and turn into steam. Direct the steam to the duck closer to the top to collect that one, then direct the rest of the steam to the last duck. After this, get it to Allie's pipe to complete the level.
Ad blocker interference detected!
Wikia is a free-to-use site that makes money from advertising. We have a modified experience for viewers using ad blockers

Wikia is not accessible if you've made further modifications. Remove the custom ad blocker rule(s) and the page will load as expected.