Bounceback is the 35th Cranky level of the week.
Walkthrough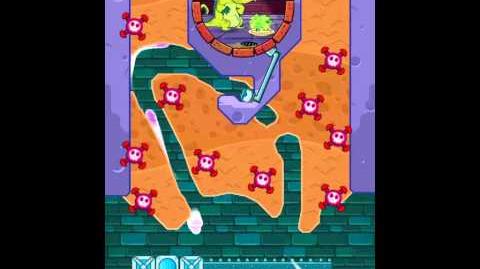 First, dig up to the duck closest to the top, then extend the path to Cranky's pipe. After this, move the platform to the right, so some of the running poison can collect the duck and get into the pipe. The second duck should automatically be collected by the poison bouncing off of the dirt. Then, make a path to the last duck to have the poison collect that one. Finally, move the platform back to the left to protect it from the bomb. After making it all the way to the left, the moving poison pipe should spray poison into the path to Cranky's pipe, thus completing the level.
Ad blocker interference detected!
Wikia is a free-to-use site that makes money from advertising. We have a modified experience for viewers using ad blockers

Wikia is not accessible if you've made further modifications. Remove the custom ad blocker rule(s) and the page will load as expected.