Around the World is the fifth level in Cranky's First Course. It is the last level that can be played for free in Cranky's Story. The player must send poison downwards to fill the ducks and return it back up via a pipe to free Cranky's lunch.
Walkthrough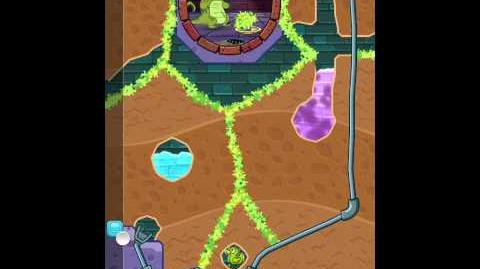 Join the Poison Water and normal water much like in Meet me in the Middle. Also make sure your path fills the first available duck. Then cut the dirt so that the current poison water group travels to the next water group. Cut down again, and make a sidepath so that some poison water can fill the second duck. The rest should go into the pipe, and be launched towards the dirt that held the first Poison Water group. Cut it so that the Poison Water gets directed to the last duck, and then to Cranky's pipe.
Ad blocker interference detected!
Wikia is a free-to-use site that makes money from advertising. We have a modified experience for viewers using ad blockers

Wikia is not accessible if you've made further modifications. Remove the custom ad blocker rule(s) and the page will load as expected.