Allie the Alligator



Nickname

Allie

Characteristics

Nice and Smart

Favorite Thing

Her Bow

Secret

Crush on Swampy

Date of birth

August 24, 1995

Voice Actor

Olivia Hack
Allie is the 17 year old girl alligator that hung out with Cranky, but then fell in love and spends time with Swampy.
Her first appearance is in Troubled Waters.
You can find her collectible Bow in 4-1.
When she first appeared, she had no bow and loved Cranky In the beginning of Sink or Swim, Swampy found her a bow, and she fell in love with him by the end of the chapter. In Boiling Point
she was in a cart of her own along with Swampy pushing her.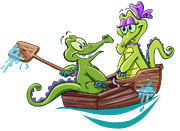 From Disney's Where's My Water? website:
"A pretty lady alligator who at first doesn't understand Swampy's human-like quirks. Over time she starts to see him as charming and sweet, the opposite of macho and stubborn Cranky."
Trivia:
It's possible her full name (Allie Gator) could actually be a pun of "Alligator", which makes sense being that she is one.
Some fans predicted that her story might involve using Ooze, as Swampy used Water, and Cranky used Poison but no one used mud, though it's not clear how Mud would effectively be used. It was confirmed, however, that Allie's story actually uses steam, not ooze.
The artwork of Allie didn't look the same as the official artwork.
As shown in Allie's Story she has a passion for music.