This article needs cleanup or expansion
This article is part of the Where's My Water Wiki cleanup project. It may have some errors or may be too short/have missing information.

You can help by expanding the page and fixing any incorrect content you may find.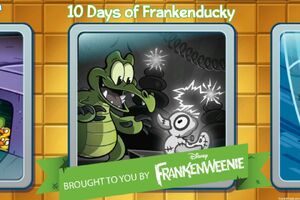 10 Days of Frankenweenie (also known as 10 Days of Frankenducky) is a new set of levels in Where's My Water? Free made to sponsor the new Disney movie, Frankenweenie. They are once playable if you update to v1.5.0. The levels were released from September 27-October 6, 2012. They have new Halloween music and there is a trailer of the upcoming Frankenweenie movie. Everything in the levels are in black and white (except Swampy, Allie, Cranky and the water), as a nod to the black-and-white style of the movie. There are 10 levels in this level pack.
Levels
Level 2-1 (27/9) : Skeleton Dance
Level 2-2 (28/9) : Dark and Stormy
Level 2-3 (29/9) : Ghost Buster
Level 2-4 (30/9) : Tower of Terror
Level 2-5 (1/10) : Haunted Mansion
Level 2-6 (2/10) : Six Feet Under
Level 2-7 (3/10) : Catacombs
Level 2-8 (4/10) : Along Came A Swampy
Level 2-9 (5/10) : Dark Descent
Level 2-10 (6/10): Hydrant
Ad blocker interference detected!
Wikia is a free-to-use site that makes money from advertising. We have a modified experience for viewers using ad blockers

Wikia is not accessible if you've made further modifications. Remove the custom ad blocker rule(s) and the page will load as expected.